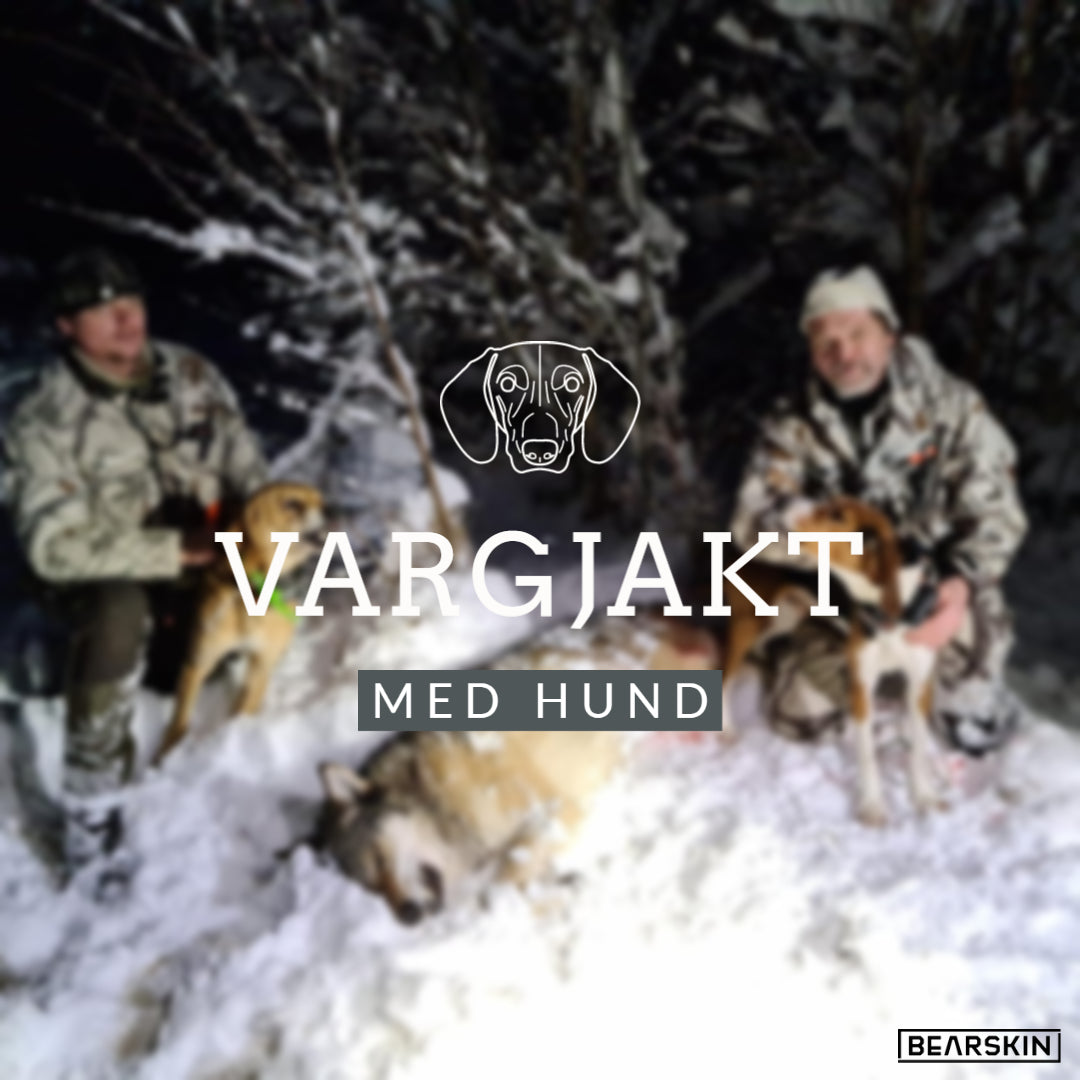 Wolf hunting with a dog
By now, many hunters have learned to use a dog in wolf hunting and how effective it can be. But judging by the questions I get sometimes, not everyone has encountered the hunting method and how to act to hunt wolves safely and effectively with a dog.
Most descriptions and pictures show dust-like dogs used in wolf hunting, but spitz dogs actually work just as well. However, you should have a bell on the dog that the wolf can hear.
That you could hunt wolves with a dog hardly seemed a matter of course when the wolf began to re-emerge in our Scandinavian lands. Many people have probably read stories about wolves being hunted with a dog a long time ago, but as far as I know, these hunts usually took place in the summer and then on wolf puppies.
The hunt I am primarily talking about takes place on track snow, although it also works just as well on bare ground as long as the dogs are well hunted for the task.
Why it works
If you humanize the wolf, you could call it a coward. But in a wolf's world, it should not enter into something that it can not quite safely handle.
So the feeling you build on when you use dogs for wolf hunting is to make the wolf unsure whether it will be able to handle the dogs itself or not. As long as the wolf is unsure of the outcome, it will also go well, but if it feels that it has complete control of the situation, it is not as certain how the outcome will be. But what do you do then to make sure that the wolf does not feel safe in the situation.
Main rule number one is usually to track down the wolf and bump it before releasing the dogs.
It is not uncommon to fire shots into the air when pushing the wolf out of the daily routine to ensure that the wolf knows that there are people after it.
You always use at least 2 dogs on 1 wolf, which gives a psychic advantage over the wolf.
Dogs / bells are sometimes used on dogs to enhance the impression of humans.
As a rule, only dogs are released on lone wolf individuals. For flocks and pairs, patchwork and pressure hunting are better suited.

There is a much greater chance that an adult wolf (alpha animal) will front the dogs than that an annual wolf / fool dares to do so. If the wolf / wolves are alpha animals, they usually mark territory quite frequently while you are tracking them.
If I were to describe myself how I usually act during the wolf hunt, it could look like this. It can be to hunt the younger wolves with a dog and hang patchwork or alternatively go after (pressure hunt) the alpha animals in the first place. The assessment I would make here is if the wolves have any previous history of taking dogs, which of course would make me even more careful with dog releases.
When hunting our large predators, I think it is always good to have a risk assessment before releasing dogs, then you have at least one plan and the surprises will be fewer.
Normal approach to wolf hunting with dog.
First, determine the area in which the wolf is (the area can be 500 m in diameter to 5 km in diameter or more). Then pass shooters are deployed around the area. When this is done, the dog handlers go in after the wolf track. When you push the wolf out of the daily routine, you shoot a shot in the air and the dogs are released in the trail of the wolf. Dog hunting can result in gears, footsteps or skulls depending on which wolf is being hunted.
Why hunt wolves with dogs?
The advantage of hunting wolves with a dog is that the wolf does not pay as much attention to the surrounding pass shooters, but much more often makes mistakes that it would never have made otherwise.
If you follow the steps I described in wolf hunting with a dog, my experience is that you conduct the hunt in a very efficient and safe way.
I hope you who have read this have gained an increased understanding of wolf hunting with dogs and how to proceed / Rasmus