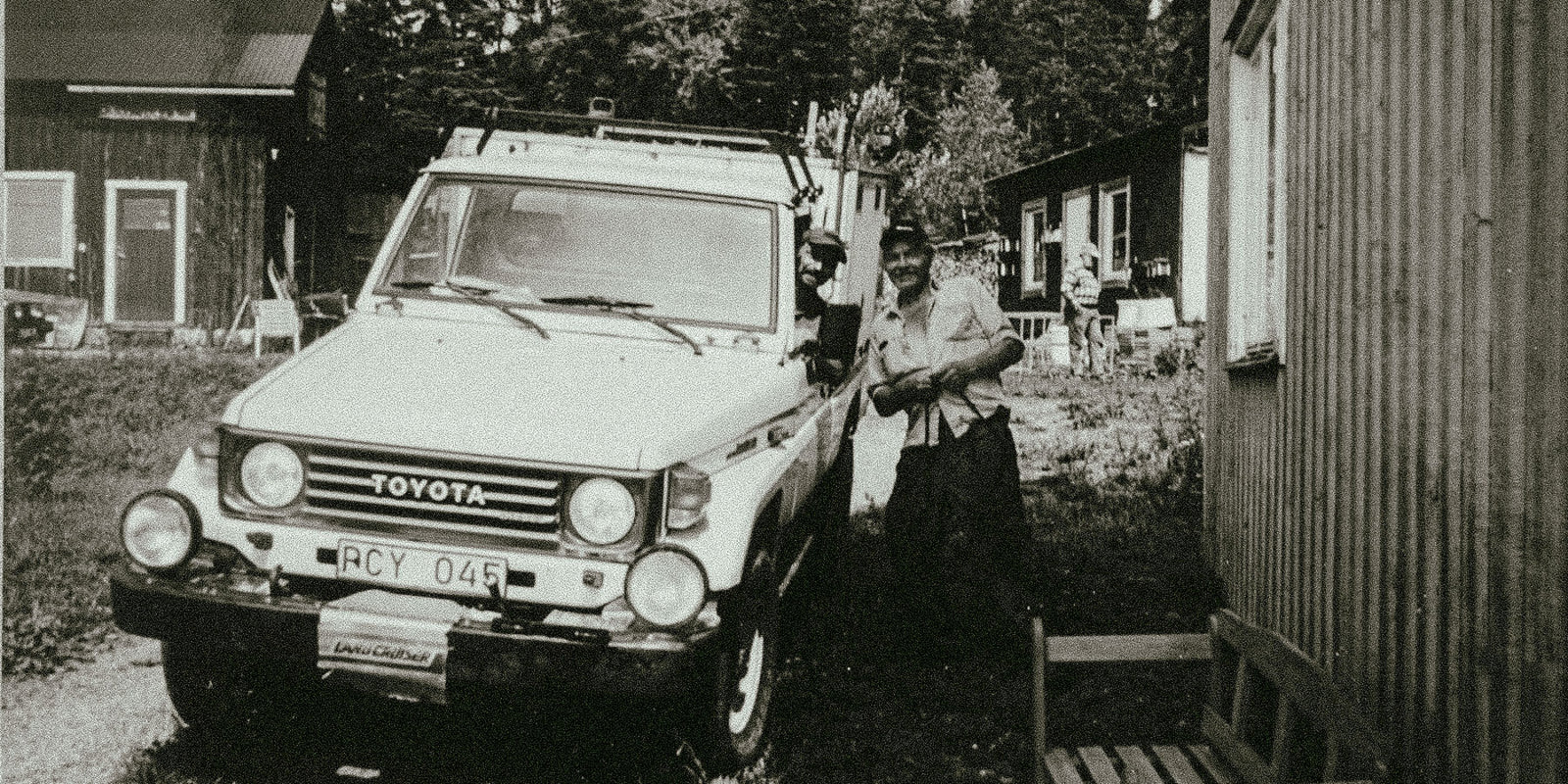 Hunting cars
A little look back at some of my hunting cars so far
If you start where I bought my first hunting car that was intended to get better than the middle car (volvo 145), I end up with a Toyota tercel.
Toyota tercel was a car with a loadable 4-wheel drive. Gasoline consumption was 0.65-0.7 / mile so it was relatively cheap to drive. It really only had 3 shortcomings.
The gearbox did not have a high / low gear but only a low 1st, which meant that when you drove on it as far as possible and would try to reverse from there, there was no low reverse gear. The result used to be a lamella change if you did not think about it.
It was a car, so when there was some snow, it was still driven with passability.
The car was not rust-protected and the "rust death" was met too soon. However, it was rather indestructible mechanically.
Toyota tercel, an incredibly good hunting car at the time.
A little further on, I bought a Suzuki samurai, model 410. 10 meant 975 cubic meters and it was weak. It was so noisy and loud that you withdrew to go 10 km to refuel it. It felt more like a quad bike with a cab. After a few years, it was replaced by something more real and the choice ended up on a Toyota landcruiser pick up.
Suzuki samuraj 410.
The Toyota pick up was equipped with a winch, and an irsta cabinet. The first cabinet became my first dog coat. This was long before you saw the incredibly nice dog coats of today with exhaust fans and charging stations in, but it did the job and it was mine.
That it did not have comfort or amenities in general did not feel so important then, but it started and worked fairly flawlessly during the years I had it. Had the rust not taken it hard, I probably would have had it still today. The car was sold later and I actually think I got more for it when I sold it than when I bought it.
The money was used anyway for an investment in a newer Toyota Hilux, The car had rolled at Arlanda airport and traveled almost 4,000 km, when I sold it it had traveled 32,000 largely problem-free miles.
Toyota landcruiser.
Dog coat model older on land cruiser. 3 full-length cages at the bottom and 3 single cages at the top. The rest of the irsta cupboard was used for storing hunting gear, because there was minimal space in the single cabin.
The car today
In today's situation, we have come so far that even most pickups are like driving a car. Without a doubt, you appreciate good driving comfort more over the years. Then it is important that the dogs are well.
My choice today and probably for a long time to come is a pick up with a dog locker.
Getting high in a car is definitely an advantage when tracking off roads, especially
then the plow edges
starts to get high as otherwise you do not look over them without a high car. To explain it more clearly, there has sometimes been so much traffic on the road that it is only possible to see tracks in the snow on the other side of the plow edges.
A good combination of hunting car / everyday car. High ground clearance and narrow tires make for good accessibility in snow. The side lights on the hood and on the car roof are controlled with a button from inside the car.
Dog Coat
The very heart of the car. That the dogs are well when they travel around the country and kingdom is something they deserve.
The fan makes them dry quickly and the air is fresh. With pure wood wool, it is easy to keep clean and later to replace it with new fresh when needed.
The charging station is a real help when you more or less live in the car at certain times of the year. Dog beacons and hunting radio
that must be charged every morning are a must. Many times you do not live in a place with electricity but the car is the fixed point.
The dog coat I have, I have decided myself what design it should have. With 4 dog places in the hood, I am equipped to get all hunting dogs where I am going. I used to have a dog coat model that also had room for the weapon but I liked it a time that it was easier to store it in a case on the platform, so my current one has no weapon storage and there is nothing I miss.
The charging station.
220v
converter.
4 USB sockets.
2 pcs 12 v sockets.
The dog coat also has a 12 v food dose warmer. If you are out in the woods on almost all the days you can hunt, there is not always time
to make a fire. And sandwiches you get tired of sometimes.
Wood wool, a clean and fresh material for dogs to lie on.

Light
Something that has taken an incredibly big leap in technology in recent years is the car light. With the articulated ramps available today you get an incredibly good light for quite a bit of money. The dog coat has both extra light ramp from wiplight as well as side lighting and reversing light. Everything to both see and be seen.
The round fog lights are for some reason very good to wear when there is only a small amount of snow in the road.
Automatic or manual transmission?
Before my current car, I only owned manually shifted cars. If you travel a lot and far with your car, I would say that automatic is preferable. On the other hand, I would say that if you do not travel such long distances with your car but use it mostly for hunting around, I would probably choose a manual gearbox. The advantage of the automatic is that it pulls all the time when the gear is in and you accelerate (so you do not lose the bracket). The downside is that once you are stuck with a vending machine, it is not possible to rock with it as it does with a manually shifted car.
The meaning of tires
When it comes to passability in snow, there are of course different ways to discuss it, but that the pattern and design of the tires determine your passability is a fact.
The tires that were available for my hilux were 265 wide on the original rims, which in my opinion is too wide. They receive more than they pull in the snow is my opinion. That they would float up on the snow is for me an old myth without anchoring in reality.
From what I have managed to arrive at, narrow and high tires are what apply when passing in snow on roads.
On my hilux today are 215 wide tires and they are clearly better to get around with than 265 wide tires regardless of pattern.
Best regards Rasmus